Extended multiplayer, 4:3 and 21:9 screen support & more
---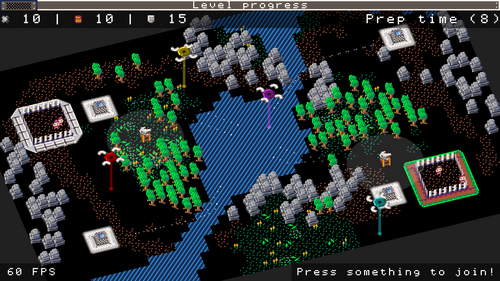 Extended multiplayer
Local multiplayer support has been extended to 4 players and the current input scheme has been reshuffled:
Red is controlled by gamepad #4 or WASD+Space+Q
Blue is controlled by gamepad #3 or arrows+Enter+PageDown
Yellow is controlled by gamepad #2 or the mouse (or touch)
Purple is controlled by gamepad #1
This way it is possible for 4 players to play at the same time with just one gamepad, a mouse and a keyboard.
Responsive mode
We've changed how scaling works and reworked the UI so the game will fill up the whole screen and UI elements will re-arrange themselves automatically. No more black bars if you are on a non-16:9 screen! We'll continue testing the game on 4:3 and 20:9 screen aspect ratios; if something doesn't look right on your device, please send us a screenshot to hello at lasermagnet dot com!
Other stuff
Also in this release:
Some low-effort balancing: doubled enemy hit points (quadrupled for the big one!),
Flipped laser turret sprite (a tester noted that it makes more sense this way - point taken and appreciated! :)
All player controls were added to the main menu screen.
Files
Copterfields.zip
Play in browser
Mar 16, 2022